Overview

Achilles Tendonitis is a term that commonly refers to an inflammation of the Achilles tendon or its covering. It is an overuse injury that is common especially to joggers and jumpers, due to the repetitive action and so may occur in other activities that requires the same repetitive action. Most experts now use the term Achilles tendinopathy to include both inflammation and micro-tears. But many doctors may still use the term tendonitis out of habit.
Causes
The majority of Achilles tendon injuries are due to overuse injuries. Other factors that lead to Achilles tendonitis are improper shoe selection, inadequate stretching prior to engaging in athletics, a short Achilles tendon, direct trauma (injury) to the tendon, training errors and heel bone deformity. There is significant evidence that people with feet that role in excessively (over-pronate) are at greater risk for developing Achilles tendinitis. The increased pronation puts additional stress on the tendon, therefore, placing it at greater risk for injury.
Symptoms
Mild ache in the back of the lower leg, especially after running. More acute pain may occur after prolonged activity, Tenderness or stiffness in the morning. In most cases the pain associated with Achilles tendinitis is more annoying than debilitating, making sufferers regret activity after the fact, but not keeping them from doing it. More severe pain around the Achilles tendon may be a symptom of a much more serious ruptured tendon.
Diagnosis
In diagnosing Achilles tendonitis or tendonosis, the surgeon will examine the patient?s foot and ankle and evaluate the range of motion and condition of the tendon. The extent of the condition can be further assessed with x-rays or other imaging modalities.
Nonsurgical Treatment
Proper footwear with a strong and secure counter (the heel circumference) may help to encourage heeling of the tendon. A tendinitis will occasionally resolve on it?s own, with rest, ice, and gentle stretching. If symptoms persist for more than 2 weeks, consult your physician. Your physician may suggest physiotherapy and custom orthotics. Physiotherapy can suggest appropriate exercises and modalities to aid in the healing process. Custom orthotics can be very successful in treating the problem, as the original cause may be due to an improper alignment of the foot and heel. Re-aligning the foot to a neutral position may provide an optimal, biomechanically sound environment for healing to occur.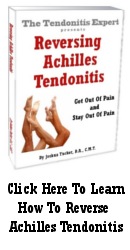 Surgical Treatment
There are two types of Achilles repair surgery for tendonitis (inflammation of the Achilles Tendon), if nonsurgical treatments aren't effective. Gastrocnemius recession - The orthopaedic surgeon lengthens the calf muscles to reduce stress on your Achilles tendon. D?bridement and repair - During this procedure, the surgeon removes the damaged part of the Achilles tendon and repairs the remaining tendon with sutures or stitches. Debridement is done when the tendon has less than 50% damage.
Prevention
While it may not be possible to prevent Achilles tendinitis, you can take measures to reduce your risk. Increase your activity level gradually. If you're just beginning an exercise regimen, start slowly and gradually increase the duration and intensity of the training. Take it easy. Avoid activities that place excessive stress on your tendons, such as hill running. If you participate in a strenuous activity, warm up first by exercising at a slower pace. If you notice pain during a particular exercise, stop and rest. Choose your shoes carefully. The shoes you wear while exercising should provide adequate cushioning for your heel and should have a firm arch support to help reduce the tension in the Achilles tendon. Replace your worn-out shoes. If your shoes are in good condition but don't support your feet, try arch supports in both shoes. Stretch daily. Take the time to stretch your calf muscles and Achilles tendon in the morning, before exercise and after exercise to maintain flexibility. This is especially important to avoid a recurrence of Achilles tendinitis. Strengthen your calf muscles. Strong calf muscles enable the calf and Achilles tendon to better handle the stresses they encounter with activity and exercise. Cross-train. Alternate high-impact activities, such as running and jumping, with low-impact activities, such as cycling and swimming.